Week 20- Halfway there!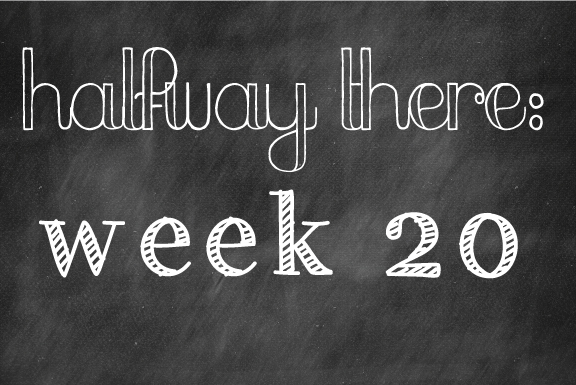 It's hard to believe that we are coming up on week 22, just over halfway there to meet baby Jones! Our baby girl will be size of a spaghetti squash by the end of this week and will weigh just at a pound.
Top memorable moments of weeks 19-21:
- Experiencing our 20-week ultrasound and hearing from the ultrasound specialist and our doctor that our baby was doing great, showing lots of movement and on the right track developmentally!
- Feeling the first flutter of a kick in my belly at week 20. Such a surreal moment! Since then, the baby has been moving much more, and it's neat to fall asleep to her dancing around. Marshall is now able to feel it as well.
- The hardwood floors are finally finished in the nursery, but probably most exciting is that the smell of the polyurethane is finally out of our house too!
- Marshall enjoying his new tools including his router and miter saw as he finished construction on the bookshelves and baby changing tray for the nursery. He has become quite the carpenter and furniture maker! He's already drawing up plans for the storage bench/toy chest that he plans to make next.
- Visiting some Atlanta preschools and then having the tough decision to figure out which is best for us, knowing that we won't even find out if a spot is available until next April. Hearing that one school was on a 2-year waiting list was a bit discouraging, but we toured some awesome places this past week and that was reassuring.
- Marshall painting an old French chest for our changing table in what I thought was the most perfect "coral color", only to find out that we both agreed it looked awful. He spent the whole weekend stripping off the moulding and paint, creating new moulding and sanding the dresser back to it's original state.
- Picking up our crib, but sadly the box was missing the hardware. We were so excited to put it together, but looks like this will be an "after-the-holidays" project.
-Christmas is here! We look forward to leaving Atlanta tomorrow to visit our families along the coast in St. Simon's, Hilton Head and Savannah.