Week 32- Only 8 more weeks and lots of fun along the way!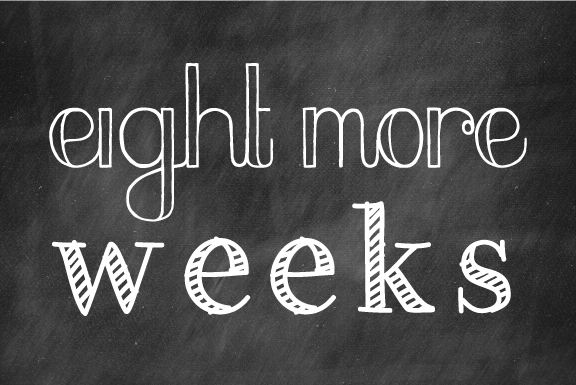 So moving into week 32, I had a check-up appointment with one of the doctors on rotation in the practice. It was humorous as I read off my list of concerns that I consistently keep up with on my iphone (so I don't forget before my next appointment), only to find that with everything I mentioned, the doctor nodded and said, "Yes, that's part of pregnancy." He wasn't trying to downlplay my concerns, but it's interesting that I never predicted all of this craziness before I got pregnant- heartburn, hot flashes every night, and oh, my legs and ankles swelling to a point that they are just funny (and not to mention, quite ugly) to look at. I guess it's a good thing that I have my excitement guiding me through each day of my pregnancy, because I still smile consistently when I think of what's to come and I'm so thankful that overall, I'm still feeling great!
Along with the good doctor updates- strong heartbeat, being on track with my weight gain, and just eight weeks to go until my due date, week 32 brought some other fun stuff too! Many of you may have read my story of falling on the stairs in January, well, no more! Marshall spent this past weekend re-building our back stairs and they look awesome… steps that would make Bob Vila proud. As Marshall explained his design, he said, "There's even enough room for you to put the baby carrier down while you lock and unlock the door." He thinks of everything! Although, it was quite funny to see Cady, our dog, leap outside the first time after they were finished. Not accustomed to the new format of three stairs as opposed to one, she took quite the tumble. Now, she loves it and so do her short Yorkie legs.
Also this week, several friends at the gym, hosted a shower for all of the "pregnant girls of Crossfit Atlanta." There are three of us right now, so it was so sweet to all come together with the girls of the gym and have a wonderful dinner at Urban Pl8 (Betsy, the food was wonderful!). I have truly enjoyed being able to go into the gym each week, and although there are limits to what I can do and I'm not breaking any records, it's just nice to move around and have trainers that look after you and make sure you're not doing too much. Bethanie, our original Crossfit trainer, was such an inspiration through her pregnancy and has definitely guided each of the pregos thereafter with workouts tailored just for us. Many, many thanks to Betsy, Bethanie and Leah for pulling today together! We all had a wonderful time!