Week 33: Updates and a glance at my favorite things…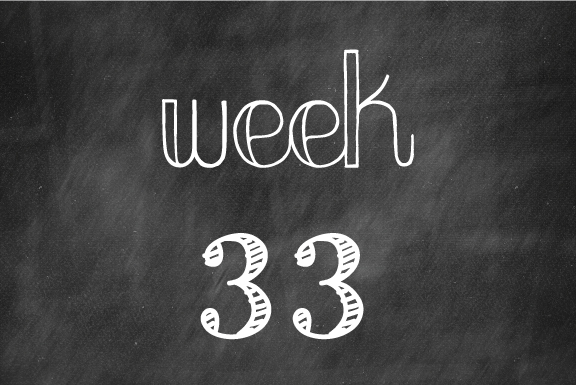 Today is the start of Week 33. Our baby girl is the size of a pineapple and is about 17 inches long and weighs about 4.25 pounds. I guess that explains why I felt like I was waddling for the first time yesterday- yep, go ahead and smile, it's a bit funny!
We took care of some of our pregnancy "must do" items this week including our tour of Northside Hospital, required of all families delivering at Northside, and an interview of a potential pediatrician. On our hospital tour, they walked us through the process of everything from parking and check-in, to the labor and delivery room to the recovery rooms. Being in those rooms seemed to make it even more real that we are getting close! I know we'll be in great hands once we get to that point. The hospital delivers 11,000-13,000 babies a year, the most of any hospital in the US. We finished up my Spring Break with a visit to Dr. Shea Fleming. She's an awesome pediatrician who works with so many of our friends' families, and we walked away confident that she would be a great match for us too. She's very down to earth, open to all of the questions of new parents, offers quick and dependable access to her practice of doctors, and along with their very friendly and approachable nursing staff, we found our pediatrician- check!
Many people have been asking me if I've had cravings or anything that I just can't live without in my pregnancy. Well, just thought I would share a few of my favorite things that have totally made my pregnancy easier and/or more enjoyable: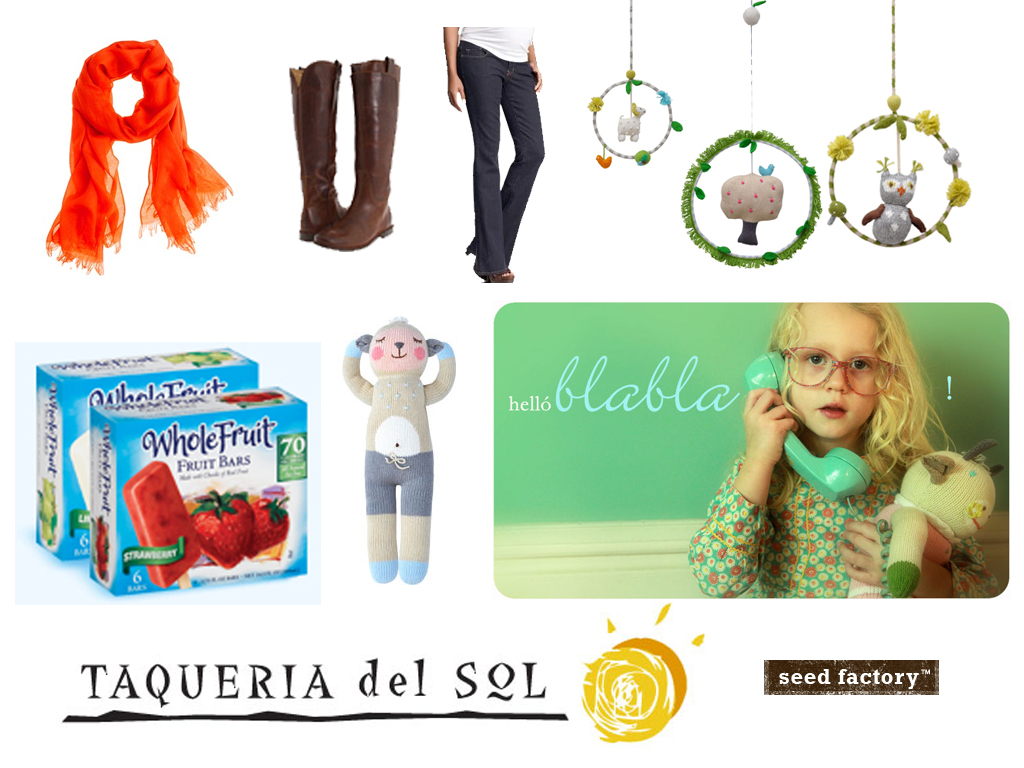 Favorite foods:
- Whole fruit strawberry icepops
- No surprise with my love of Mexican food: Taqueria del Sol
Favorite clothing:
- Gap maternity boot cut jeans
- Brown riding boots (sadly, mine are totally ruined and stretched out by now)
- J Crew lightweight scarves
Favorite nursery items and stores:
- Blabla dolls and dream rings
- Seed Factory, this cute store on the Westside
Favorite blogs:
- Daybook Blog (www.thedaybookblog.com)- This blog was recommended to me by my little sister when she first found out I was pregnant. The writer, Sydney, recently had a baby and her write-ups include a mix of fashion, motherhood, fun stories, honesty, and humor!
- Project Nursery (www.projectnursery.com)- This blog has postings from people all over the world who have shared pictures of their nurseries and the blog itself offers lots of fun design ideas and inspiration