happy st. patty's day!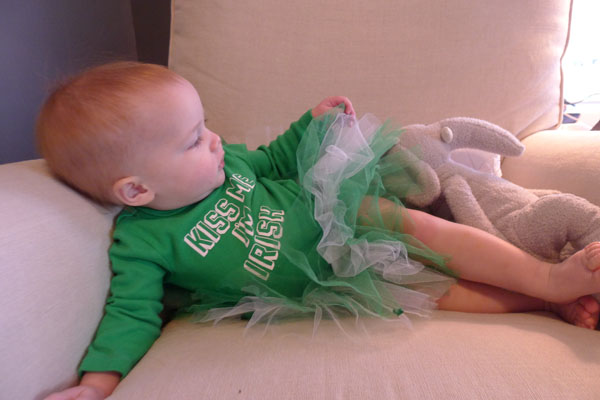 The first thing Marshall said when he came down the stairs the other day when I was taking these photos was, "Zoë, I'm SO sorry mom has you dressed up like a crazy!" He was right, everything about the photos below are so wrong, but I must admit that she kinda enjoyed herself. She got quite comfortable in her green and white tutu, and even continued about her business by helping with the dishes. Like a good ole Savannah girl, I caught her sipping on her drink under the table:)
When you grow up in Savannah, St. Patrick's Day just becomes such a huge part of your life- even if you're not Irish! It makes me think of the days when I joined the St. Vincent's Choir and went all around town with the other choir girls in our plaid skirts and green polyester blazers. It was well worth it- we got to miss a lot of school during the month of March as we toured the city with the Grand Marshall of Savannah's St. Patrick's Day Parade Committee. From Danny Boy to Irish Eyes are Smiling….those days still remain some of my fondest memories of Savannah!
Hope you all have a wonderful St. Patrick's Day weekend!