Week 23- An exciting year ahead!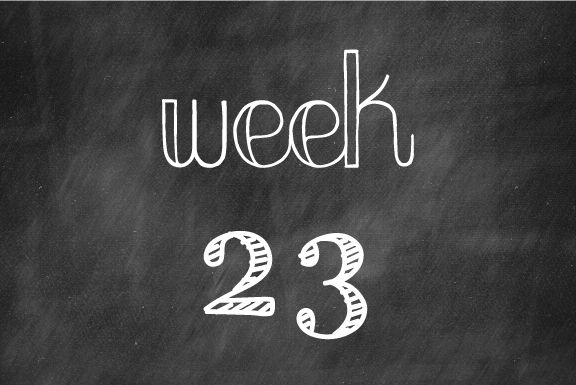 Happy New Year! The last couple of weeks have been super busy with the holidays. Marshall, Cady and I took a trip to the coast to visit our families in St. Simon's Island, Savannah and Hilton Head Island. It was a whirlwind tour, but it was so nice to see everyone and enjoy the Christmas holidays with our family. When we returned to Atlanta, we spent lots of time prepping the nursery and Marshall was busy at work on the construction of a toy chest. I know he has become serious with his furniture building when his Home Depot lists are now written in pencil on a scratch piece of wood, along with the coordinated wood moulding stapled to the back to make sure we can match it properly. Clever!
We had some friends over for New Year's Eve dinner, and Marshall's favorite part was putting together a "New Year's Eve Spectacular" with the fireworks that he bought in South Carolina. After dinner, we all went outside to watch the show- except for little Cady who wasn't a fan of the screaming fireworks. As for the little peanut, she didn't seem to be phased.
In the heart of week 23, I'm feeling good! The little peanut is kicking lots and letting us know that she's doing good too. Some other updates from the past couple of weeks:
- Cravings: Anything Mexican (Marshall may be getting sick of it). There was a period of three days where I had Mexican for lunch and dinner and it didn't seem to phase me. I'm also loving strawberries too!
- Funny Moments: I seem to think that every Chick-fil-A commercial and billboard is the funniest thing ever right now. I know, the cow commercials have been around a long time, but for some reason in week 23, they are cracking me up!
- My pregnancy brain: With all of this time off, I've been searching the web for the perfect nursery items/inspiration. I realize that there are a lot more important things in this world, but since I've had this extended vacation, I've been obsessed at looking at nurseries on baby blogs and pinterest. I'm still so very undecided on what direction our nursery will take, but know it will come together eventually.
- My baby bump: Yes, it is definitely growing. Our baby is the size of a large mango this week and weighs over a pound. The next 17 weeks will be interesting as our baby (and my belly) continue to grow!
- Favorite moment: Seeing Marshall immediately pick up baby Audrey as she came over for our New Year's Eve party. He's like the "baby whisperer" and has a way with little kids. I look forward to the day that he will be holding and soothing our little girl too!