eleven months…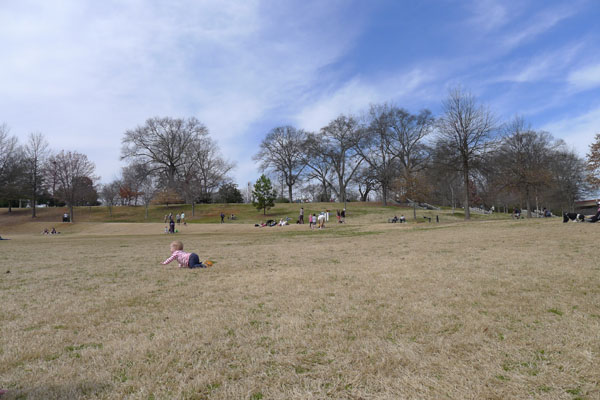 As you can tell, Zoë is exploring her independence, as she crawls away from our group at Piedmont Park. Not sure where she thought she could get away to, but it was fun to watch her cover some ground. All the while, she would keep looking back to make sure we were watching her. Zoë is 11 months old now, and I'm sure this pursuit of independence is only just beginning.
As we approach the end of her first year, it's just amazing to see her change and grow. This month she has been taking her first steps, and although can't really go more than 2-4 on her own without falling forward, I'm so proud of her! She also takes such pride in her baby steps. As she lands in our arms, she lets out the biggest cackle and just settles into our hug with a huge grin.
Her newest tricks also include flipping her block bucket over and screeching it across the hardwood floors. She loves it! Does it over and over and over again! We don't love it- the noise is excruciating. Other favorite activities include waving bye-bye, bath time with her rubber duckies, swinging, scaling our steps like a professional rock climber, standing in our refrigerator to pick out food, and as always, playing with her pal, Cady.
Her favorite words are mama, dadda, and bye-bye.
Her favorite toys right now are:
- If I were a Monkey book
- her wooden blocks
- her wooden mallets for her xylophone, which she likes to chew on while she attempts to walk (never a good idea when your walking skills resemble those of a drunken sailor!)
- her nesting plastic balls
- anything musical, especially the iPod and her activity table (where she also likes to try to lick the flashing lights!
To our sweet Zoë, we love you! Happy eleven months!