"it's a good thing she's cute…"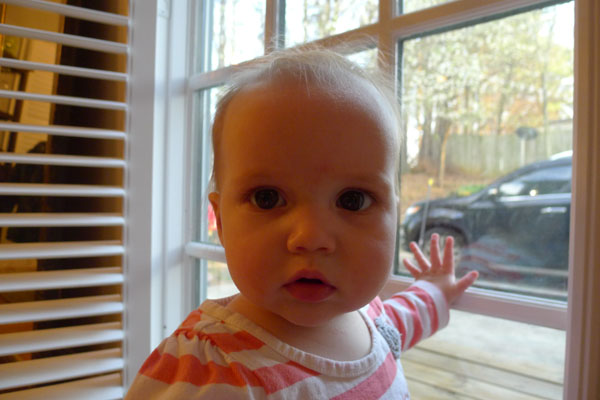 Those were the words that were coming out of Marshall's mouth just before he ran to the bathroom to hover his head over the toilet. Yep, Zoë came down with a stomach bug on Thursday and has successfully passed it along to Marshall. If you get queasy easily, this may not be the post for you….sorry!
When I woke up to feed Zoë on Thursday morning, I approached her room like any other day. Dim lights, warm bottle in hand, and my standard greeting, "Morning, Baby". As I walked closer, the morning unfolded like none other. Just imagine the movie, Carrie, and replace Sissy Spacek's character with little Zoë. She was covered from head to toe in stuff, and her bed was the same. There were no words to describe what I saw. I just stared at her as she stared back at me acting like nothing was different. I really didn't know what to do. So, I did what any good wife would do, and walked back upstairs and woke Marshall and said, "Babe, I gonna need some help." I didn't warn him, so when he came in Zoë's room, I don't think he knew what to say either. We wondered how long she had been like this, and why she didn't cry at some point in the night. Our first thought was that she may have overeaten. So after bathing her, we gave her the bottle and tried to proceed like any other school day. I walked upstairs to get dressed for work, while Marshall got Zoë dressed. The next thing I hear is Marshall saying, "Babe, I'm gonna need some help." I ran down the stairs, of course in a white oxford shirt, to find Marshall covered in stuff, and when I walked in the room, that same stuff was everywhere- all over her wall, dresser, rug, nursery glider. Yep, her bedding is ruined too! The sheet went directly in the trash, and we are trying stain remover madness to salvage her crib bumpers. Needless to say, we were at the doctor's office as soon as it opened to learn that the treatment for this type of stomach bug (which is apparently very prevalent right now) is to give Zoë a teaspoon of watered down pedialite/apple juice every 10 minutes. The doctor said that you have to be extra careful so that she doesn't get dehydrated. It was a long day, and she was super pitiful. Zoë was obviously not feeling well, or hungry, or thirsty, so every time I tried to give her some liquid, it was a fight. I stayed home with her on Thursday, and Marshall stayed with her on Friday. She was actually getting better and having a decent Friday afternoon when I came home from work. Sadly, that goodness didn't last too long though, as Marshall found himself in the same situation all Friday night. Poor guy!
So, I guess this is our first round of the stomach flu with a baby and her dad. I understand that it can just cycle back and forth in the house- so not looking forward to that! Here are a few photos from our house the past couple of days and our pitiful little Zoë falling asleep on everything from her ottoman to her swing. Let's just hope her dad feels better soon too!